1. Rob Ford's Community Clean Up, Saturday, April 21. Although I doubt we'll see Rob Ford on the streets picking up empty Starbucks cups (he might sit back and drink out of one while watching, though) the mayor himself invites you to keep the city clean this Saturday. If the environment is your thing, you must form a group, chose a clean-up location, and register on the City website. GLAD garbage bags will be available at four locations and the City will pick up the litter you collect.
2. Nickelback, Sunday, April 22. I know what you're thinking: Nickelback? Yes, Nickelback. The pop rock (I use the word rock lightly) band will be at the Air Canada Centre at 6:00 p.m. on Sunday, and will play a delightful set of songs that pretty much all sound the same. Tickets are available at the Air Canada Centre Box Office or on the Ticketmaster website. Joining the band will be Bush, Seether, and My Darkest Days.
3. FITC Toronto 2012, Monday, April 23 (runs until the 25th). Featuring over 70 digital creators (nerds) from around the world, the FITC (Future, Innovation, Technology, Creativity) festival will showcase the best in technology and design. From social media how-tos to digital art and speakers, the data extravaganza will be happening at the Hilton Toronto at 145 Richmond Street West.


4. Hipster Bingo, Monday, April 23. Like bingo? Hate hipsters? Combine both your love and hatred with a game of satirical hipster bingo at The Garrison, 1197 Dundas West. The newly launched bingo night will have reusable bingo cards for $3 a pop, and plenty of hipster prizes are up for grabs (unsure of what that could be, though — oversized glasses? Bikes?) The game starts at 8:00 p.m.
5. FAT Arts and Fashion Week 2012, Tuesday, April 24 (runs until the 28th). The edgier sister to Toronto Fashion Week, FAT (Fashion Art Toronto) will serve as a platform for young, innovative artists not limited to but including designers, artists, musicians and photographers. Keep an eye out for budding talents like designer Emily Woudenberg and Paidemoyo Chideya. The venue is located outside the downtown core at 213 Sterling Road. Media or general passes are available on FAT's site.


6. New York State of Mind, Tuesday, April 24. Anything New York-related and you can count me in. The Canadian Opera Company will give jaded Torontonians a taste of New York this week, where Soprano Lauren Margison will team up with pianist Christopher Mokrzewski to pay homage to Big Apple jazz and pop music culture, with hits from Billie Holiday, Billy Joel, and more.
7. Hot Docs: Canadian International Documentary Film Festival, Thursday, April 26 (runs until May 6th). The annual festival and conference is back, with more than 150 international cutting-edge documentary films for you to explore. The week-and-a-half long festival will showcase the best of the best in venues across Toronto, from the Bloor Cinema and TIFF Bell Lightbox to the ROM Theatre and The Rogers Industry Centre. Individual tickets are $14.50, and week-long packages are available as well. Noted docs include 'Tchoupitoulas' and Amie Williams' 'We Are Wisconsin.'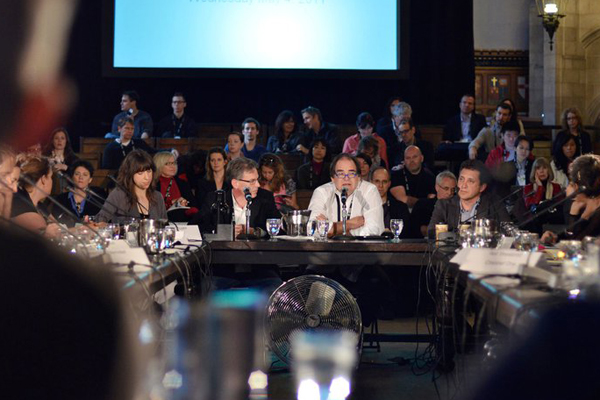 8. Inside Out Launch Party: Lights! Camera! Auction!, Thursday, April 26. The 2012 Inside Out Toronto LGBT Film Festival is launching this week with a special silent auction at The Burroughes Building, 639 Queen Street West. Starting at 7:00 p.m., the auction will raise money for the LGBT youth initiative Inside Out Reach. Auction donors include RBC, the Royal Ontario Museum, and TIFF — so be sure not to miss out on some swanky ass bidding!
9. Toronto Bridal Show, Friday, April 27 (runs until the 29th). Bridezillas unite. The everything-weddings event will feature exhibitors and runway shows in case you're running behind on those pesky 'big day' details. From venues to dresses, make the Toronto Bridal Show your one-stop shopping stop. Tickets are $15 at the door, or $10 online. And if you're going as a bridesmaid, you should show up to the show drunk Kristen Wiig-style (get readdyy tooo paaaaaaar-tayyyyyyyyy!)
10. Red Hot Chili Peppers, Friday, April 27. If Nickelback isn't your thing (it probably isn't) then check out the Red Hot Chili Peppers at the Air Canada Centre this Friday. The show starts at 7:00 p.m. and tickets are available at the ACC or online at Ticketmaster. California rest in piece, because Toronto is where it's at.

________
____